Reports tell of Donald Trump's financial ties to George Soros.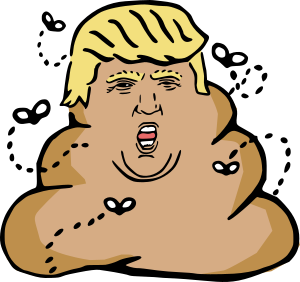 The US Republican party has been using much propaganda to demonize progressive organizations such as #BlackLivesMatter, Bernie supporters, Hillary supporters. As well, any other marches and protestors such as the recent Women's March have been demonized by right-wing radio, internet and television for being funded by billionaire and 'globalist' George Soros in order to cause chaos and instill riots. This has given many right-wing radio fans to shun and lash out at movements like #BLM while rallying support for the 'alt-right' and politically Conservative listeners/viewers.
In the age of "Fake News" and the never ending stream of online conspiracy theories, simple research will debunk most of the "alternative facts" that often attempt to present themselves as the full unfettered truth. In light of the truth, President elect Donald Trump has often claimed that politicians were in the pockets of billionaire elites like Goldman Sachs, George Soros and the Koch Brothers. Despite this, Donald Trump has very quickly shown his true colors as Trump's newly forming cabinet already has acquired up to 6 government positions for former Goldman Sachs employees and surrounded himself with Koch Brothers associates.
The newly elected president often attacked his political opponent Hillary Clinton for her ties to Henry Kissenger, Goldman Sachs and the Koch Brothers, yet Donald has made efforts to accommodate these same global elites he so quickly villainized Hillary for doing. Yet, an Oct 28, 2004 article titled "Big names back Trump tower" revealed that George Soros invested $160 million in the Chicago Trump tower that is said to be made of cheap steel from China.
Despite the hypocrisy of his previous ties with Soros, Donald continues to claim that everyone from BlackLivesMatters to Bernie and Hillary supporters as being paid protestors funded by Mr. Soros. Yet anyone can find out about Donald's own ties to Soros and is easily found on Wikipedia's web site as well.
"On October 16, 2004, Donald Trump and Hollinger International, the parent company of the Chicago Sun-Times, completed the $73 million sale of the former home of the newspaper a week after it relocated.[97] On October 28, 2004, Trump held a ceremony to begin the demolition of the former Sun-Times Building.[98][99][100] The demolition and construction were financed by a 650-million-dollar loan from Deutsche Bank and a trio of hedge fund investors who represented George Soros as one of their sources of funds"
- Wikipedia
There are no doubts that Mr.Trump would not have willingly revealed this information to the public while politically attacking Hillary for her own Soros funding ties, but would still use Soros name to demonize protestors than admit to the actual heart felt protesting of US citizens.
Trump's ties to Soros, Goldman Sachs and the Koch Brothers likely means bad news for the political system for the United States as these wealthy power seekers now have been offered an open door to the White House. The people who put money in politics are now having some of their greatest dreams fore-filled by the Trump presidency. Only time will tell the damage that these ultra rich puppet masters will unleash on the American political system.
References/Links:
Salon -
Goldman Sachs has seen soaring profits since Donald Trump's election
MSNBC -
Trump adds sixth Goldman Sachs hire - what's the word for that?
The American Prospect -
Make No Mistake: The Koch Brothers Are Helping Donald Trump
Politico - Trump's Koch administration
Chicago Tribune - Soros, Deutsche Bank said to be in on 90-story building
Wikipedia - Trump International Hotel and Tower (Chicago)
The Daily Beast - Donald Trump Took Liberal Icon George Soros's Money
TrumpSorosChicago Blog - Did George Soros free Donald Trump of a $312 million debt?